You are here:
Home
/
Precision CNC Bending / Forming
5 AXIS PRECISION BENDING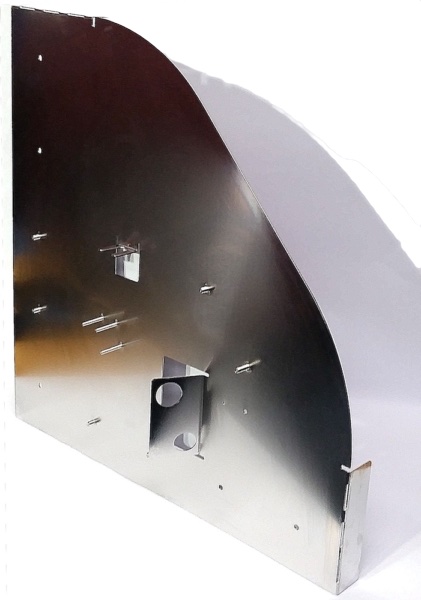 Speedie utilises the Japanese CNC Amada HDS NT series, a Servo Hydraulic Hybrid press brake for ultra high precision positioning and bending. 
These CNC programmable, servo/hydraulic, quick-change brake presses are highly accurate and efficient, minimising set up times and making jobs more cost-effective. This technology gives us the flexibility to cater for high and low volume production with accuracy and precision.
This Japanese system uses independent energy efficient AC-servo motors to drive high efficiency, bi-directional hydraulic pumps. This gives the advantage of high approach, bending and return speeds; unequalled ram positioning and repeatability of +/- 0.001016mm. The HDS series press brakes all feature auto-crowning, 5 axis CNC back-gauges and Amada AMNC Networking controls. This machine is an 143 ton x 3220mm HDS 1303 NT press brake and can bend material from 0.5mm and up to 6mm thick.
Programming with the aid of bar codes allows us to repeat the process time and time again. Setup data is held within the bar code including tooling, angles, setups, sizes and positions. The ability to do a manual programming allows for one-off jobs such as prototypes and limited runs.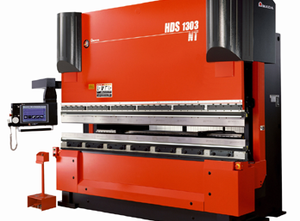 We also have the capability to make custom tools and program these into the machine so that they can be used over and over again.
Segmented tooling allows us to perform multiple setups in the one program. This allows for the speeding up of production, and the reduction of double handling.
The Amada CAM software allows us to simulate the folding procedure to avoid clashing and crashing and improve quality. The Results Station allows us to verify the flat blank dimensions and when folded the overall dimensions to compliment the drawing.